LIVING GREEN ENERGY
Natural teeth whitening from desert olive trees.
OLIVIE Smile is a natural and easy way to brighten your smile!
OLIVIE Smile organic activated charcoal consists of a fine-grained black powder made using 100% recycled materials from pruning (branches and leaves) and olive pressing (pits and pulp) of organic olive trees living in the desert purity.
Shop online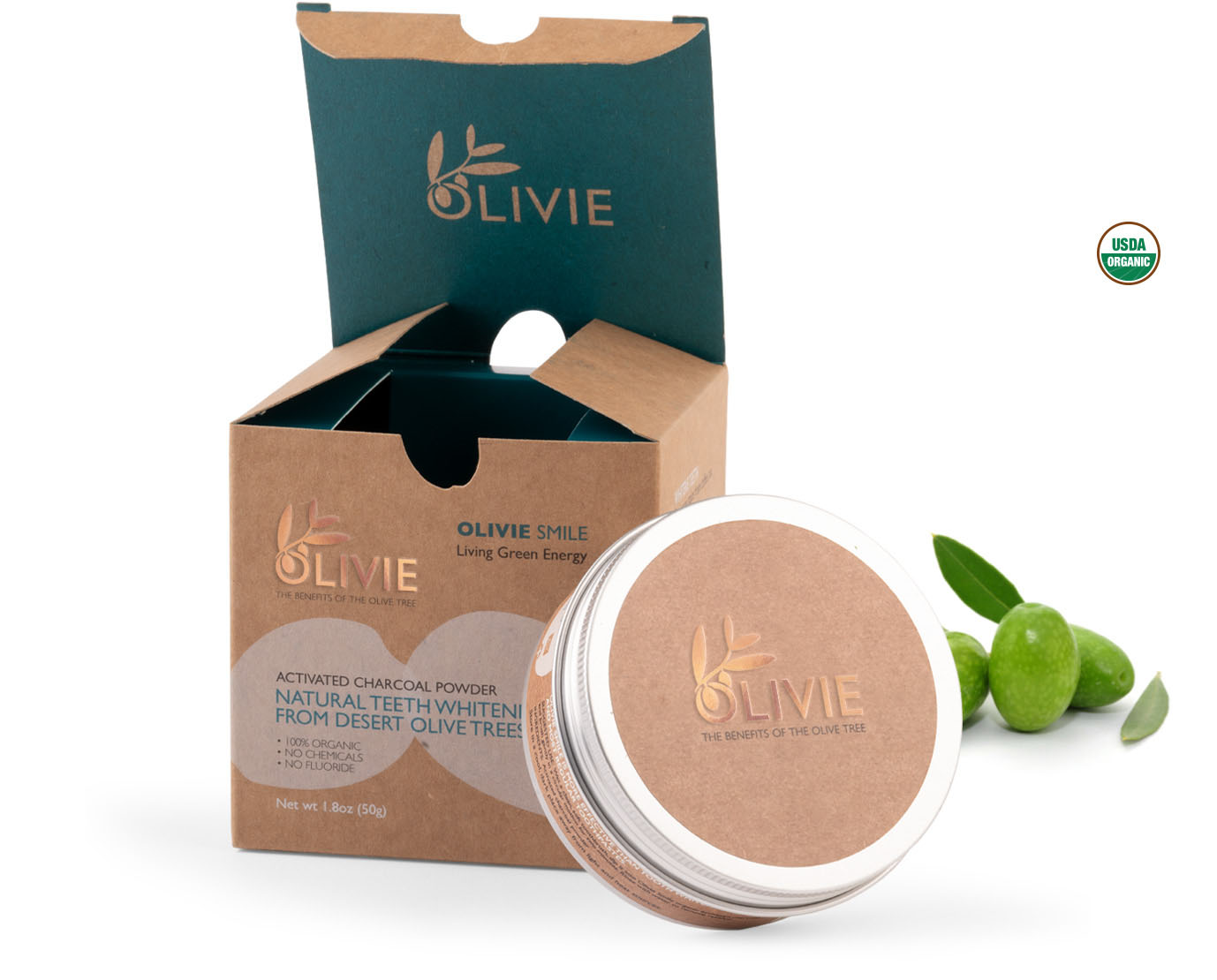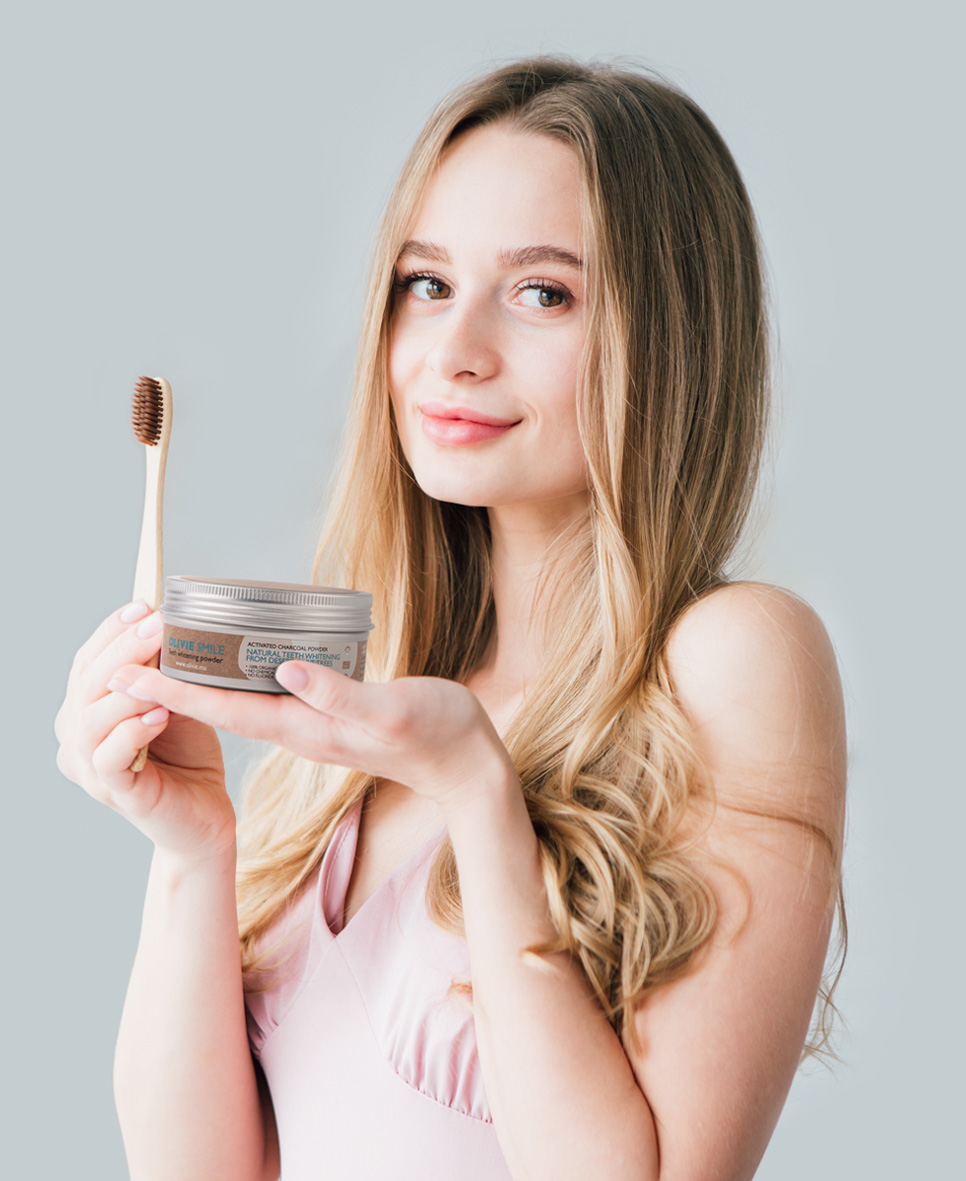 ACTIVATED CHARCOAL POWDER.
• WHITENS TEETH > Eliminates stains from coffee, tea, wine, or other food.
• POLISHES TEETH > Brightens your smile without damaging the enamel.
• ORAL HEALTH > Prevents cavities by improving the pH balance of your mouth.
• FRESHNES BREATH >Eliminates bad-breath.
• FOR SENSITIVE TEETH AND GUMS
• 100% ORGANIC
• NO CHEMICALS
• NO FLUORIDE
• ACTIVATED CHARCOAL POWDER Olivie Activated Charcoal Powder is a natural and easy way to brighten your smile! Simply apply to your toothbrush and brush it on your teeth, like using toothpaste. Just a little bit goes a long way, as fine grains of activated charcoal absorb and clean tooth stains, polishing your teeth to a lovely white.
• CHARCOAL TEETH WHITENING Improving your oral hygiene is a snap with activated charcoal. Not only does using it on teeth remove tough surface stains from enamel, its absorbent qualities reduce bad breath and impurities, and whitens your smile.
• NATURAL TEETH WHITENING Chemical and fluoride free, enjoy the natural benefits of activated charcoal without worry. Just put it on your toothbrush. You can even mix it into your toothpaste! Our activated charcoal powder is a clean, safe, and natural way to whiten teeth.
Organic certified olive trees grown in the desert of Morocco (branches and leafs, olive pulp and pits).
Our organic charcoal powder is "activated" by high temperature processes that make it highly effective and ultra-absorbent that traps toxins and chemicals found on the teeth, without damaging tooth enamel.
Wet a clean, soft toothbrush, dip it into Olivie Smile organic activated charcoal, and brush gently in a circular motion for two minutes. Rinse with water to remove residue.
Gluten, wheat, dairy, yeast, sugar, sodium, artificial flavors, sweeteners, preservatives or color additives.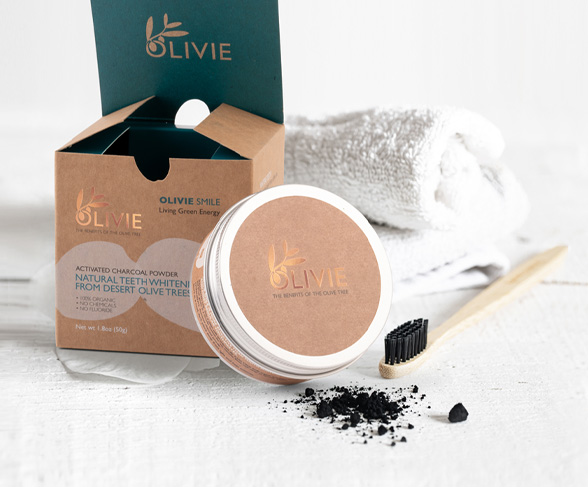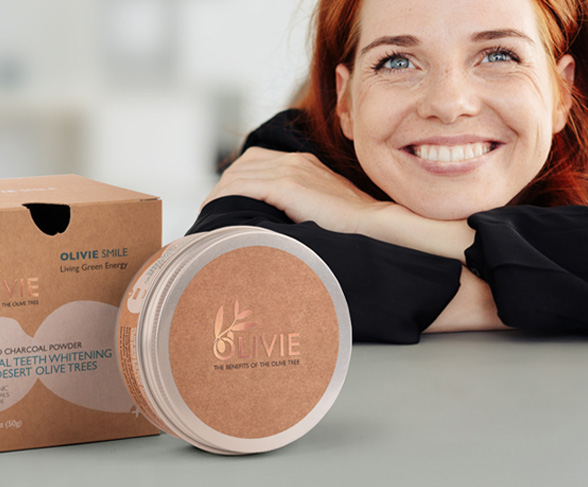 These statements have not been evaluated by the Food and Drug Administration. These products are not intended to diagnose, treat, cure, or prevent any disease.
Olivie's product brochures.