TASTE GREEN POWER
Thirty times more health benefits in a spoon.
So beneficent that OLIVIE Plus 30x is adopted by Doctor Steven Gundry!
Preserve your body cells against oxidative damages. This rare olive oil helps you avoid serious diseases. In fact, with its uniquely high concentration of polyphenols, OLIVIE Plus 30x is particularly suitable for the preventive treatment of: strokes, hypertension, cancer, diabetes, psoriasis.
Shop online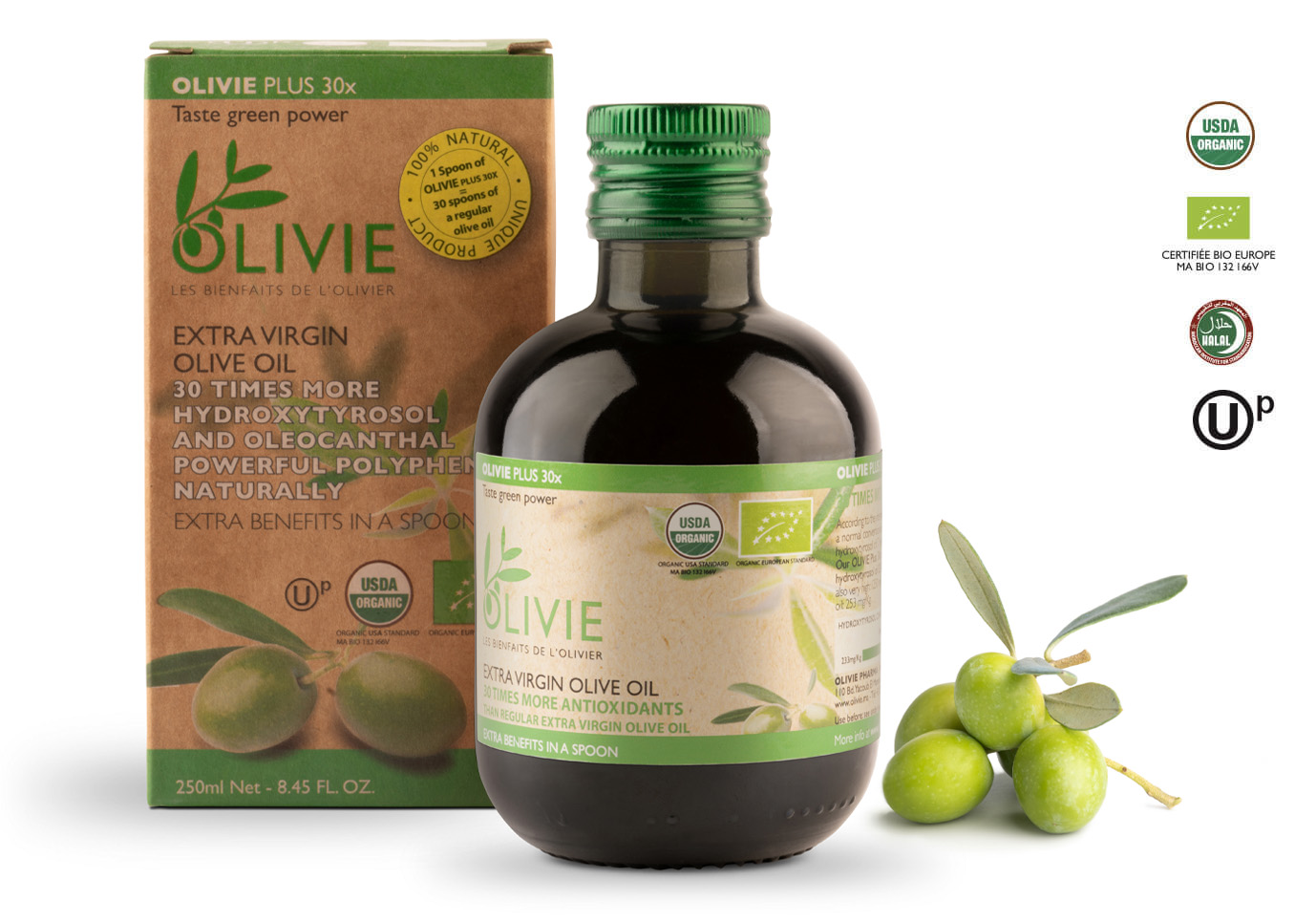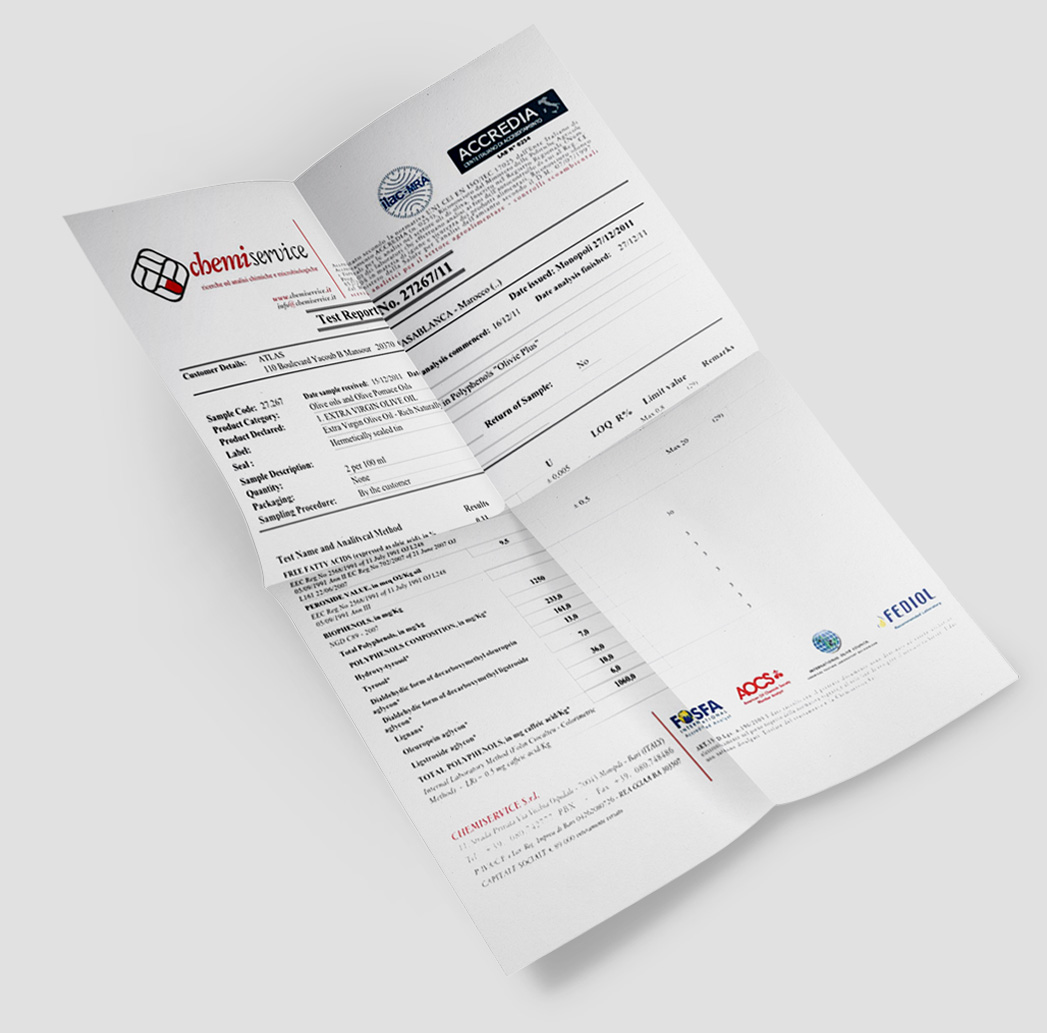 THE UNIQUE EXTRA VIRGIN OLIVE OIL THAT IS EXCEPTIONALLY RICH IN POLYPHENOLS, 100% NATURALLY.
The laboratory analysis of OLIVIE PLUS 30x extra virgin olive oil produced by Atlas Olive Oils showed that this rare olive oil is naturally rich in polyphenols and particularly super packed in Hydroxytyrosol with a content of 233 mg/kg, and in Tyrosol with a content of 161 mg/kg.
download the COA
A COMPARATIVE RESEARCH CONFIRMS THAT OLIVIE PLUS 30X CONTAINS 30 TIMES MORE THE ANTIOXYDANT HYDROXYTYROSOL NATURALLY.
The table shows the content of hydroxytyrosol and tyrosol of 22 samples of regular / conventional extra virgin olive oil taken from 4 Mediterranean countries, all historically known for producing extra virgin olive oil (Source: Hrneirik and Frische – 2004). The comparison with OLIVIE Plus 30x shows with no doubt its unique and higher richness of polyphenols.

WHY OLIVIE PLUS 30X HAS SUCH SPECIAL FEATURES?
Simply because this oil comes from suffering olive trees surviving in a harsh rocky desert. Like the vine, it is well known that the olive tree must suffer to produce the best of itself. Because of high temperatures (up to 127°F in summer), a lot of rocks in the soil making the trees not able to grow their roots freely to look for nutrients, nearly no rain throughout the year, our olive trees stress and think they will die. So they trigger a self-defense mechanism through which they product abnormally high quantity of antioxidants. We think these antioxidants, born because of this harsh environment, are more active, more potent and this is the main reason why we obtained excellent results (illustrated by the clinical studies we made) for anti-inflammation, anti-pain, anti-diabetic effect, and anti-microbial.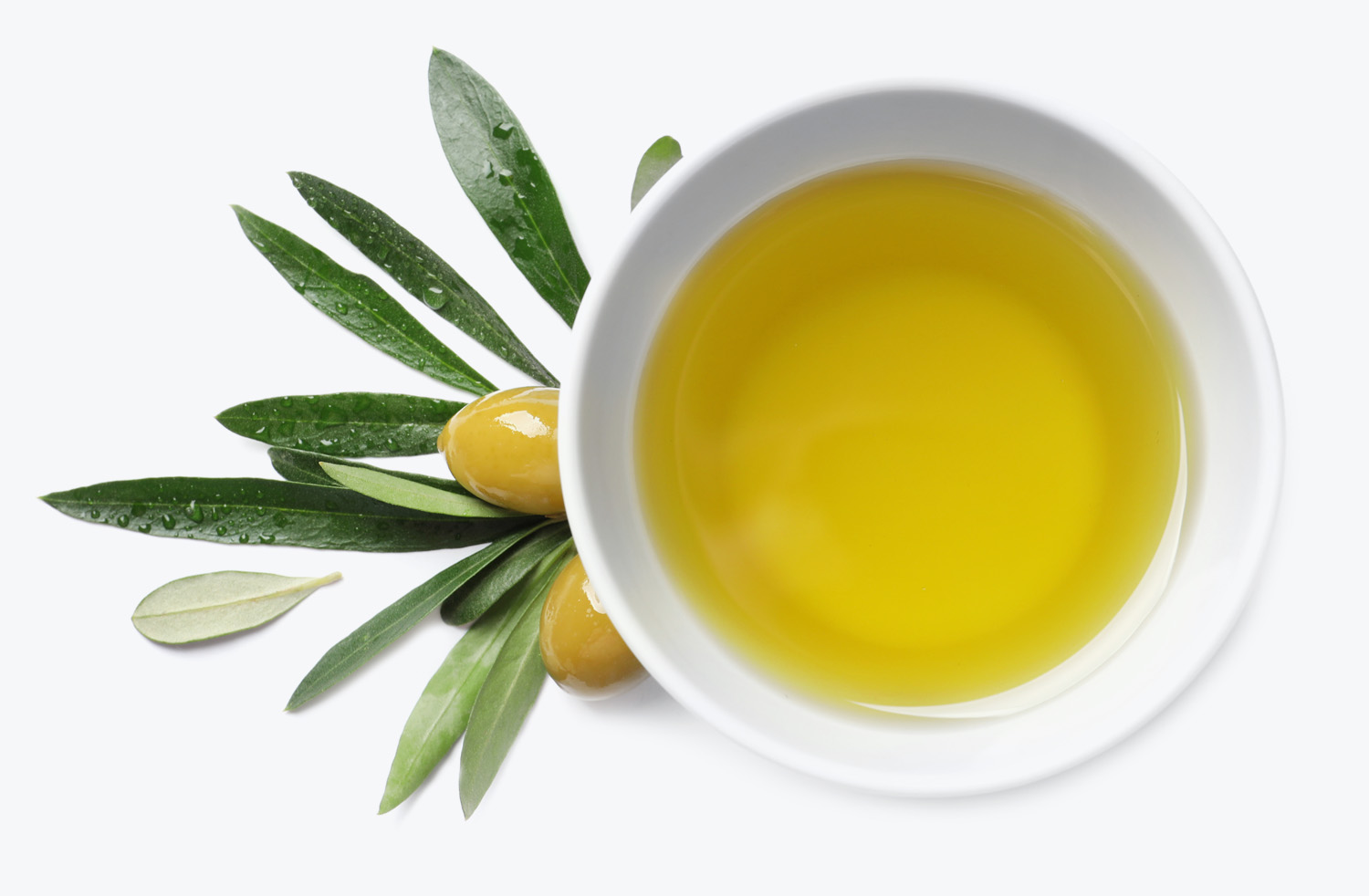 THE HEALTHIEST ORGANIC EXTRA VIRGIN OLIVE OIL IN THE WORLD.
The analysis of OLIVIE PLUS 30x extra virgin olive oil produced by Atlas Olive Oils showed that this oil is extremely rich in polyphenols and particularly in Hydroxytyrosol with a content of 233 mg/kg, and also in Tyrosol with a content of 161 mg/kg.
Hydroxytyrosol is the most powerful antioxidant easily assimilated by the human body. It has an ORAC value indicating the antioxidant power of 40'000 μmolTE/g. According to the international laboratory method "Folin Ciocalteu", a ''normal'' ''regular'' ''conventional'' extra virgin olive oil has on average a content of hydroxytyrosol of: 7 mg/Kg.
The hydroxytyrosol content in our organic certified extra virgin olive oil OLIVIE Plus 30x is 233 mg/Kg, by far superior! The total polyphenols amount is also very high: 1250 mg/Kg compared to a normal extra virgin olive oil: 253 mg/Kg.
Comparison of Hydroxytyrosol (HT) and Tyrosol (T) rates (mg/kg) between 22 samples of olive oil from 4 Mediterranean countries and our oil OLIVIE Plus 30x.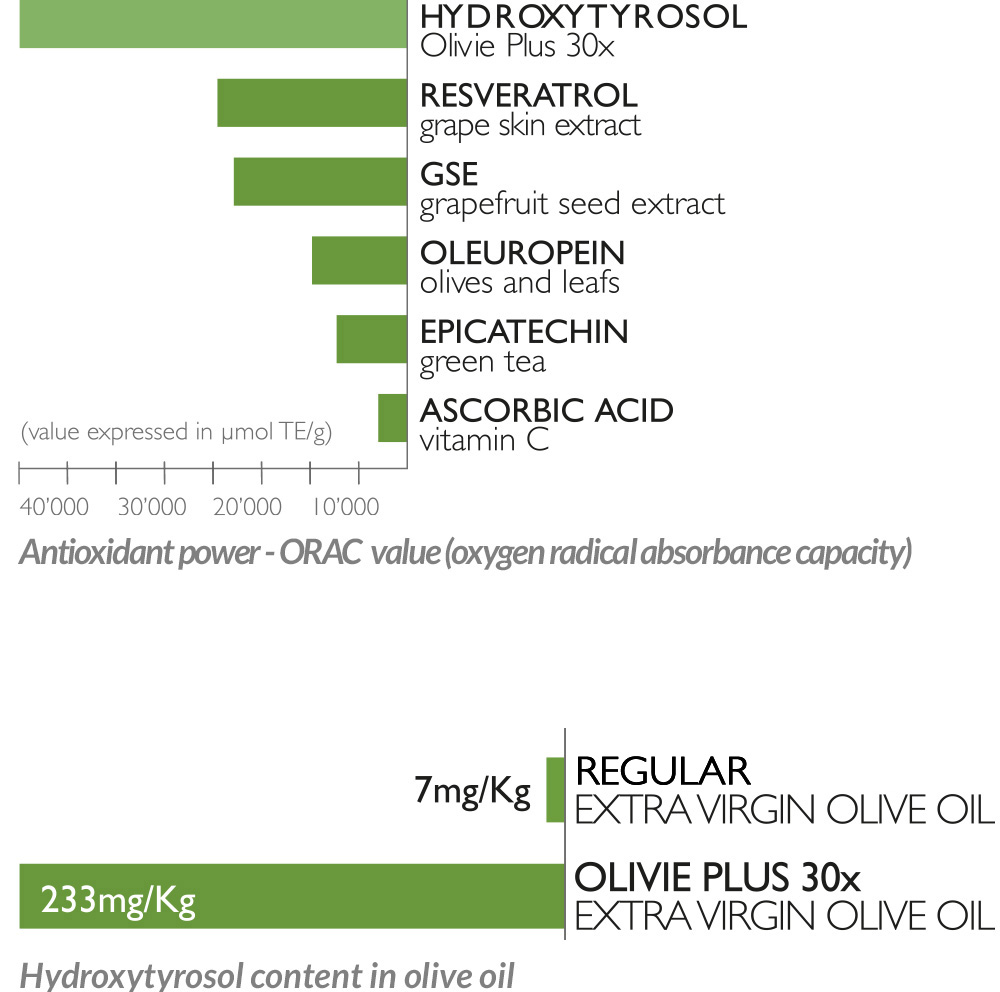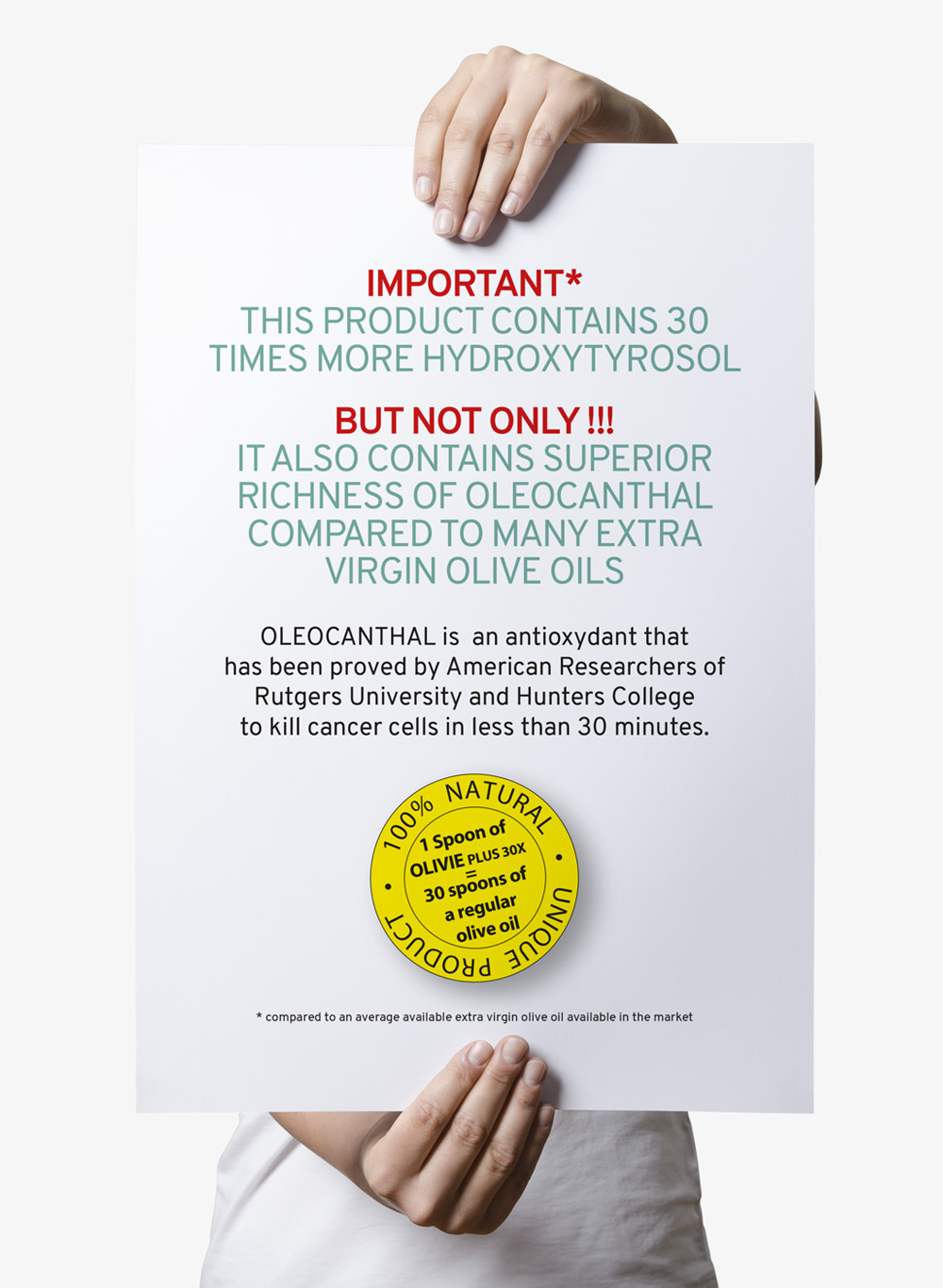 "OLIVE OIL COMPOUND KILLS CANCER CELLS IN LESS THAN AN HOUR: ALL-POWERFUL OLEOCANTHAL".
A recent and authoritative scientific research carried out by Rutgers University and Hunter College demonstrates the effectiveness of the molecules of Oleocanthal. Olivie Plus 30X contains superior richness of oleocanthal compared to others extra virgin olive oils. Please find more information about this research at the following link.
Organic certified Extra Virgin Olive Oil from the desert.
Contains 30 times more hydroxytyrosol polyphenols (233 mg / kg) when compared to regular olive oil (7 mg / kg)
Protects your heart by reducing LDL (cholesterol) oxidation
– Lowers blood sugar
– Improves heart health
– Reduces high blood pressure
– Improves Psoriasis

These statements have not been evaluated by the Food and Drug Administration. These products are not intended to diagnose, treat, cure, or prevent any disease.
Olivie's product brochures.